Unsmoke Electro- Gen Thermal Fogger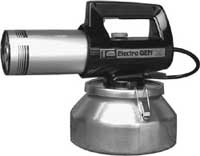 Electro-Gen – Remove smells from cars, houses, hotel/motel rooms, etc,.
Tobacco smells, cannabis odours, car detailing smoke odor removal.
For powerful dry fogging. Produces extremely fine particle size that mimics the behavior of smoke, delivering odor control deep into cracks, crevices and cavities. Can also be easily modified for use as a wet fogger. For use with  ODORx Thermo-55 solvent-based formulations.
A versatile odour control application tool. The Electro-Gen produces "DRY FOG" on the order of smoke itself rather than the damage causing wet particles produced by conventional mister and foggers. Remove the barrel and the Electro- Gen also can be used as an electric sprayer to apply solvent or water based chemicals for deodorizing, flame proofing, pest control, fabric protecting, etc.
The Electro-Gen converts one ounce of Thermo-55 into a 2,000 cubic foot deodorizing cloud – IN JUST 30 SECONDS! Specially insulated barrel produces smallest particle size. Comes with an instruction and maintenance manual. Insist on the Original…Electro-Gen is the industry's most durable electric thermal fogger.
1/2-gallon capacity
Converts 1 oz of Thermo-55 into 2,000 cubic feet of coverage
Can treat up to 64,000 cubic feet an hour
Can also be used as an electrical sprayer
Solvent-based products recommended
The Electro-Gen is a pure profit machine!
Works in seconds…then just leave the car for an hour or so and it's done!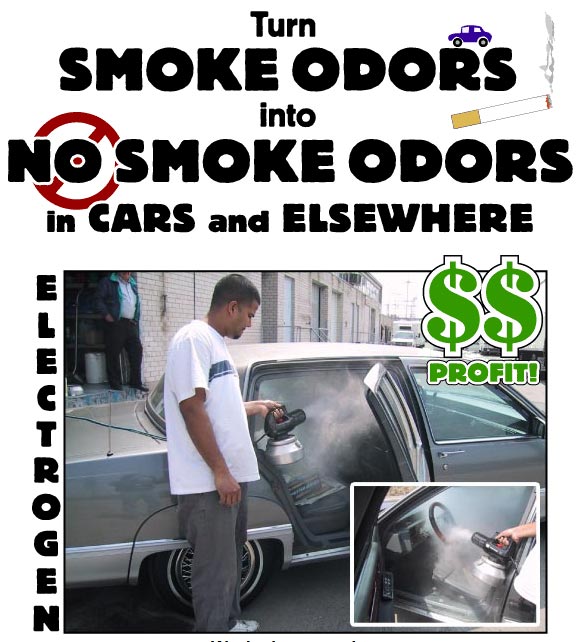 Be sure to check out the OdorX Tabac Attack product and 3 step process to remove cigarette tobacco odours and cannabis smoke smell removal.