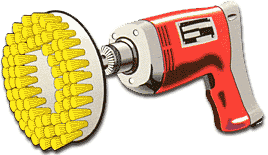 Rota-Scrub Power Drill Accessory
Power Scrub and Clean – Fits All Drills – 100% Polypropylene – 5 inches in diameter
Instructions
For best results always wash the surface with water and then spray or apply your cleanser or soap. Tilt the rotating brush at approximately 15° from the vertical. Too much angle results in only a small portion of the brush being used. Too little angle or flat on the surface lessens the cleaning results and causes the brush to wobble. Wash off the surface with water, check for spots that may have been missed and repeat if necessary.
Safety Tips
Always wear face and body protection. Be sure that the brush's steel insert shaft is firmly fastened in the drill chuck. Always use a properly grounded machine. Maximum RPM 3,500.

Soft bristles for: cleaning, cut polishing and buffing high gloss surfaces, i.e., boat top sides, sails, counters, etc.

Medium bristles for: general scrubbing and cleaning, i.e., boat decks, hulls and wood-work, house siding, decks, porches, wood window casings and frames, tiles and grout in bathrooms and showers and floors, etc.

Coarse bristles for: aggressive heavy duty work, i.e., removing loose paint and blisters, aggregate, barnacle stains on boat hulls, propellers, rudders and shafts, etc.