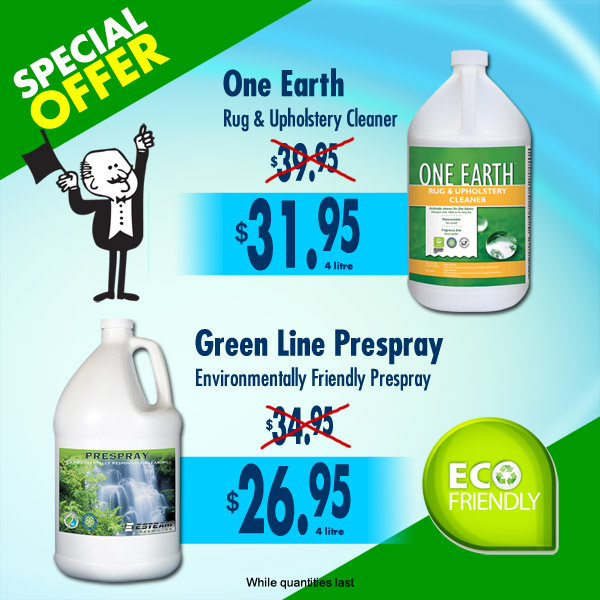 One Earth Rug & Upholstery Cleaner

Ecologo-Certified Detergent Free Cleaning
This product is an acid-side prespray for use on textiles that are at risk for bleeding when treated in alkaline conditions. Use as prespray or as neutralizing rinse. Minimal foaming and easy rinsing.
Esteam Green Line Prespray
Esteam Green-Line Prespray has been developed for the world of environmentally responsible cleaning. With its blend of environmentally friendly, VOC compliant building agents and surfactants Esteam's Green-Line Prespray meets or exceeds the environmental choice criteria for green cleaning in today's world.
Ozone TZUV-600 (1 left) $875.00
Total Zone ozone generators are the most modern, technically advanced systems on the market today. Total Zone TZ-1, TZ-2 use a patented corona discharge technology known as "SP-ARC", Silicate Polarized Arc. This new process allows the Total Zone ozone generator to produce much higher levels of ozone then any competitive model with little or no maintenance. The TZUV-300 & TZUV-600 use a proprietary UV Chamber with high output UVC lamps.
Floor Cleaning Machine Sale