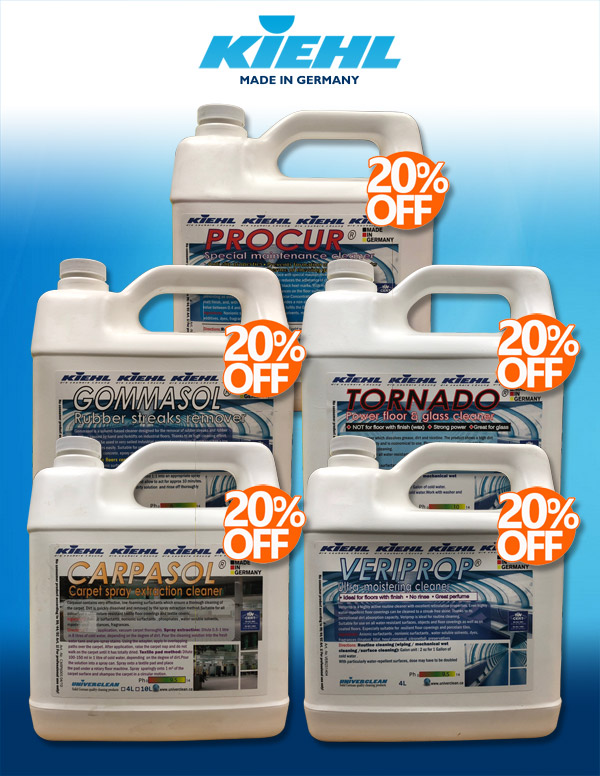 20% Off Selected Kiehl Carpet & Floor Cleaning Products
Procur Concentrate
Cleans intensively and provides the floor surface with special maintenance substances and excellent polishing properties, which markedly reduces the adherence of chewing gum and self-adhesive labels as well as the formation of black heel-marks. With regular application of the wet wiping method, the maintenance substances on the floor surface are renewed, preventing an excessive build-up of coatings. Procur Concentrate dries streak-free leaving a matt finish, and, with the prescribed dosage, provides a non-slip surface.
Gommasol
Gommasol is a solvent-based cleaner designed for the removal of rubber streaks and rubber residues caused by hand and forklifts on industrial floors. Thanks to its high cleaning effect, Gommasol can be used in very soiled industrial areas and warehouses. Gommasol has a low odour and applies easily.
Tornado
Powerful cleaner which dissolves grease, dirt and nicotine. The product shows a high dirt absorption capacity and is economical to use. Pleasant fragrance. Also suitable for professional glass cleaning.
Carpasol
Carpasol contains very effective, low-foaming surfactants which ensure a thorough cleaning of the carpet. Dirt is quickly dissolved and removed by the spray extraction method.
Veriprop
Veriprop is a highly active routine cleaner with excellent reticulation properties. Even highly water-repellent floor coverings can be cleaned to a streak-free shine. Thanks to its exceptional dirt absorption capacity, Veriprop Concentrate is ideal for routine cleaning.
Floor Cleaning Machine Sale